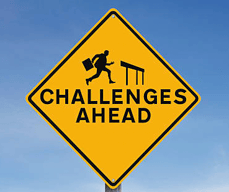 As we get closer to the middle of 2023, certain trends are beginning to take shape in technology adoption and spending. As you will recall, we conducted jury-of-executive-opinion style interviews with top CIOs across industries at the beginning of the year and many of you downloaded a copy of our insights report based on the findings.
Many of their prognostications thus far are coming true even though events such as the recent bank failures could not have been predicted at that time. One prediction that our panel made that is looming on the horizon is the need for technology buyers to consolidate and rationalize redundant and duplicative software being used across enterprises. To this end, technology purveyors can expect an untick in churn rates as the year starts to come to a close in a few months and contracts are up for renewal and renegotiation. Hence the title of this post, evoking the 2007 movie "There will be blood" starring Daniel Day Lewis.
Here are five major insights from our report that technology vendors among us may want to take note of as they start planning for the second half of this year, or another planning cycle depending on your physical close.

Below are five questions that have been tested through our research interviews to ensure that buyers' aspirations are uncovered that your sellers can take for a test run.
In many sectors, CEOs were bracing for a potential drop of 20% to 30% in year-over-year revenues in 2023, and the resultant impacts on technology budgets of 15% to 18% were commonly cited.
Technology leaders were being asked at the beginning of the year to be ready to pivot on budgets through the year if required. The prevailing mood therefore was cautious optimism. Technology purchases are being more closely scrutinized by Finance than at any time in the last two years.
Systems Integrators and other resellers/partners were already feeling the hurt earlier in the year as a result of the above cautious mood among their buyers. Some were already reporting 20% drops in revenue in the last quarter of 2022, a data point that has been borne out by recent growth rate slowdowns reported by AWS and several others in their earnings reports.
A bright spot in our data was consumer spending expectations, and this has been borne out recently in earnings reports from grocery chains and packaged goods companies. And according to recent reporting by the Wall Street Journal, inflation expectations by consumers have given some of these companies opportunities to raise their prices beyond inflationary factors contributing to higher profitability. Still, executives from this sector shared the same cautiousness as in sectors that are more adversely affected by the current climate.
Lastly, the need to control technology spending is causing Central IT to more closely scrutinize apps purchased by and used in line-of-business. While compliance, governance and security concerns have been a key driver for these "reign-them-in" motions, reigning in expenses has been an additional catalyst.
So back to our theme of expecting higher levels of churn. How can technology purveyors brace themselves and get to higher ground? Our panelists provided several clues when asked the question: "Given the market conditions you face, what do you expect from your technology vendors and their salespeople?". Here are some direct "open-mic" quotes we picked from our research that can be incorporated into your strategies to "churn-proof" your business for the second half of the year:
We want them to stand in our shoes. We want them to understand what our problems are. We don't want them just to come in and say, oh, that's what it costs for your next renewal. They need to be able to speak in terms of value that's delivered, and they need to understand when they're not driving value for us. I don't want to talk about even a 2% price increase right now. So, you know, I think they've been enjoying the party a little bit too much. And it's time for them get back to the good old-fashioned business of rolling up their sleeves and truly getting into our customer success. A lot of people say it, but I don't think a lot of people do it. CIO, Manufacturing & Distribution
There are some vendors that won't work on proving their business value. They have kind of just said, nope, that's the way it is. We're going to take them out of the ecosystem. I just don't need people who aren't on the team with me. I'm just not going to have those folks around. If they won't at least sit at the table and talk to us and say, you know, we want to try to help. CIO, Manufacturing & Distribution
Our CEO is asking for discounts of at least 10%. And in some cases, we can succeed. In other cases, it's more challenging like with some of our larger vendors like AWS and Splunk. And the reason is that the amount of business that we're doing with them seems to increase because its data-driven every day, every quarter, every year, with the same number of customers generating more data.

CIO, Pharmaceuticals
I think a lot of us have vendor fatigue. We know what we have in our stack, but how many vendors try to contact us? And I've heard there's literally 5,000 security vendors now. You know, 20, 30, 40 or more do the exact same thing. So, I can't talk to all of them. And I think some of fall out in the market because as funding dries up, unrealistic valuations with little revenue market to clean itself out.

CIO, Financial Services
For the future, we have prioritized technologies like AI, Machine Learning, Blockchain and Predictive Analytics as key focus areas. Against each of these technologies, we are creating use cases to see which vendors and which solutions will work best for us. CIO, Consumer Packaged Goods
For more information or to discuss how we can help you create your "churn-proofing" playbook for this year, please contact us
Al Nazarelli is Founder & CEO of Silicon Valley Research Group, a global technology market research and strategy development firm.
Topics: Market Research Best Practice