Your Brand Health Check for 2022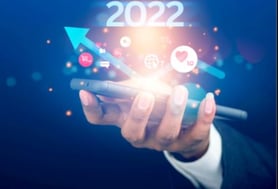 Happy New Year and all the best for 2022! I wanted to kick-off this year with the topic of brand science and measuring brand. While creating brand can be considered an art, the topic of developing, maintaining, growing, and measuring brand is a science. And at Silicon Valley Research Group, having just celebrated our 20th anniversary, we have been all about the science for the past 20 years. Our tagline, "The Science of Technology Marketing" said it best for the last 20 years and will continue to for the next 20!
Let me share some food for thought on brand science, which we define as the act of measuring, tracking and elevating brand performance over time. We will end this article with a topic that is of great interest currently-the relevance and inclusion of ESG in your brand story. Here is a checklist for assessing your brand health at the start of this New Year and some pointers for implementing brand improvements through the year.
Measuring what matters:

First of all, let's start by defining what needs to get measured. While most people think of brand awareness as the important score, we like to think in terms of measuring brand equity. The strength of the brand consists not only of its awareness in the marketplace, but its competitive standing, connotations evoked and its overall pull-i.e., how much does it sway opinion and compulsion to act by buyers. In other words, brand science is not just about measuring brand awareness, but also eliciting the context in which the brand is evoked in the minds of customers and prospects. Those of you who have conducted brand tracking studies with us have experienced these additional elements in our brand survey designs.
Your Competitive Brand Adjacency score:

An optional component we recommend adding to your brand measurement efforts this year, especially for the B2B marketers among us, is Competitive Brand Adjacency. How excited is your customer likely to be about investigating a new related offering from your organization, compared to your top three to four competitors in a blind test? Why this is important?

B2B technology brands, especially in SaaS, have opportunities to create and upsell/cross sell product extensions relatively easily compared to many other industries, and we expect many product teams to create product extensions and new offerings this year, so this measure gives you a good indication of your brand pull's contribution in helping these new offering succeed.
The brand adjacency test also provides an excellent gauge for the strength of your core brand and an indicator of its "fanhood" among users. Brands that create excitement invariably score high on this measurement.

Being KPI driven.

We live in a "numericized" world. KPIs and OKRs are how companies measure progress in many areas of their organization and brand measurement is no exception. Brand research results need to be convertible into numerical scores to be relevant to executive management for many companies. If this is true for you, communicate it to your research provider so that the research project is designed to accomplish this. Brand researchers have many numerical methods at their disposal such as the Brand Power Grid™ we have developed in conjunction with some of our key clients.
"Brand Singularity":

In a previous post, I addressed the concept of Brand Singularity. Brands try to be too many things at the same time and fail at effective market positioning when they do so. Complex messaging frameworks don't work. When developing brand positioning, its best to evoke Jack Palance from City Slickers with his "

one thing

" advice. The meaning of life is

one thing (which you have to figure out) as is the meaning of your brand

. Strong brands are those that succeeding in owning an attribute in the customer's mind. Weak brands try to own too many and end up owning none. Some examples from the consumer marketing world (and from your Marketing 101 class!):

Volvo=Safety
Crest toothpaste's rise to top toothpaste brand on a singular brand promise: Fewer cavities.
Two words used by Scope that killed Listerine's number 1 mouthwash position: Medicine breath. (Note: at the time of this writing, Listerine has launched a new campaign counter-positioning the medicine breath concept that Proctor & Gamble used against it as a product benefit.)

Should ESG be part of your brand story?



A question many of you are asking in 2022. The answer is: It depends. The topic has garnered considerable interest in the investment community recently and it is only natural to be a consideration for brand developers. For starters, here is a working definition:

Environmental, Social, and Corporate Governance (ESG) is an evaluation of a firm's collective conscientiousness for social and environmental factors. It is typically a score that is compiled from data collected surrounding specific metrics related to intangible assets within the enterprise. It could be considered a form of corporate social credit score. Research shows that such intangible assets comprise an increasing percentage of future enterprise value.

[1]

From https://en.wikipedia.org/wiki/Environmental,_social_and_corporate_governance. From an investor perspective, these factors address the societal impact of the business and are a signal to institutional and other socially conscientious investors. Likewise, these are also signals to your buyers. Adding an ESG component can confer competitive advantage, and in cases of Government and other institutional procurement practices, may help score points for your company's offerings. B2B corporate buyers increasingly desire to score points with their constituents (employees, customers, etc.) for ethical sourcing. Since ESG will take up precious "real estate" in your brand story (see point 4 above on "Brand Singularity" and the need to develop a focused brand), we recommend a brand-pull test through researching your customers and prospects before making investments in incorporating ESG into your brand story. This is not about whether you should be an ESG, ethically driven company (we all should!) but how much prominence it should have in your brand communications, how much sway it will hold with your buyers, and therefore how much more are you equipping your sellers with competitive advantage. ESG can easily be measured with your prospective buyers for pull relative to other attributes and place on our

Brand Power Grid™

or other frameworks.
Topics: Market Research Best Practice